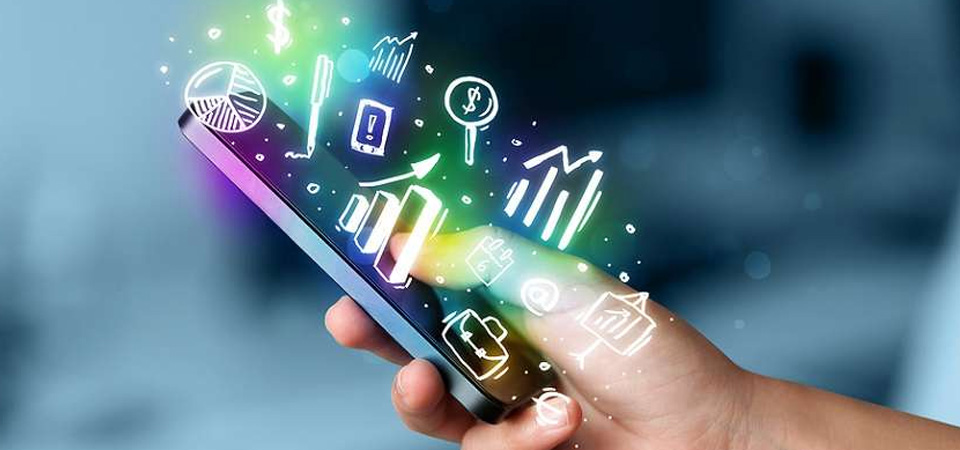 Our way of life has been drastically altered by the pandemic. We are now more involved than ever with our mobile phones and other digital devices. We utilize our phones everywhere—at work, at home, at meals, in bed, even in the car — hopefully not while we're driving. You might be reading this post on a mobile device only.
As mobile applications are becoming increasingly popular, businesses are spending more money on mobile app development and improving their user experiences in order to become more competitive and expand their businesses. Mobile app UI/UX design concepts always keep on evolving. Keeping up with the most recent market trends is crucial since the field of mobile applications, and web design changes significantly and steadily every year. The most significant UI/UX trends for mobile applications that you need to be aware of in 2022 are covered in this article.
Dark Mode
If having a white backdrop and lots of white space was popular in mobile apps in 2021, the leading UI/UX trend for 2022 is the return of the dark mode or dark theme.
The dark mode isn't something that's a brand-new concept. Users may now switch between a light mode as well as a vivid dark mode on a number of applications and websites.
So, why go with a dark theme in 2022? (Light font on the dark backdrop). For some visually challenged users, the dark mode with contrasting colors improves vision. Additionally, a dark theme looks classy, eases eye strain, and consumes less power on mobile devices with OLED panels.
3D Animation
Animation is life, not just the illusion of it, as is often asserted. It is impossible to overstate the significance of animation in UI design. The best thing on earth is to give anything life, and it takes a lot to achieve this while keeping the user's interest. UX/UI designers frequently utilize 3D animation since it has been shown to be effective at luring customers. This component makes the UI more engaging, offers users something with which they can keep themselves busy while they wait, adds life to the product, and improves the overall intuitiveness of the process.
Glassmorphism
It sounds like a dream to have a pastel or vibrant hue, a light border, and the illusion of crystalline glass icing. Due to its fashionable appearance, this UI style has quickly become well-known. Because of its glowing yet simplistic design, Glassmorphism has several brilliant features that enhance the user experience and engage audience members. Additionally, it offers a dynamic design language with all of that. The major components of this design are light borders, gradients, modest yet colorful backdrops, and 3D elements. Keep a watch on this trend because it will likely last for a while.
Virtual Reality & Augmented Reality
Accepting that smartphones have permanently changed our lives is nothing to be ashamed of. In all honesty, Augmented Reality and Virtual Reality concepts are hailed as the components that have advanced the UX/UI of mobile apps. By 2024, the market value of this sector is predicted to reach over $50 billion. This provides UX/UI mobile app development experts even more justification to use AR/VR components in actuality. Dreams may become a reality with VR and AR. Imagine the impact it will have on the UX/UI of mobile designs.
Inclusive Design
An inclusive design goes beyond accessibility.
A product or digital service must be accessible in order to be used by as many users as possible, primarily by those who have special needs, impairments, or disabilities. But, if we talk about inclusive design, then it recognizes that individuals are varied and takes a variety of human aspects into account throughout the design process, including racial group, cultural background, sexuality, age, language, and disability.
A good inclusive design approach may involve creating a set of emoticons that take into account various ethnicities, gender identities, and ages.
Although inclusive design is nothing new, in 2022, greater efforts will be made to ensure that the design approach considers more human elements and does not leave anybody behind, particularly minorities.
Typography
Few people are aware of the effects good typography can have on readers. Typography is one factor that may greatly affect the impression of your product, and it plays a significant part in creating an exceptional user experience and interface. It undoubtedly creates an instant connection, improves reading and comprehension for the user, and most significantly, it improves the user's mood and establishes a positive mindset for your product. The typography ought to be large, bold, understated yet sophisticated, and responsive. For many years to come, designers should pay close attention to this one component.
Neumorphism Design
Although brand-new, the Neumorphism design is undoubtedly making waves in this business because of its catchy name and captivating aesthetic. Its popularity among UI designers might be attributed to the shadows and textures that it adds to a design. Both skeuomorphism, as well as flat design, served as inspiration for this design. Its modest color schemes and a mixture of monochromatic hues give the finished product a refined yet understated appearance. This UI component will undoubtedly color the city crimson with its features in the upcoming year.
Complex Gradient
Gradient design won over people's hearts for the most part of 2020 and 2021 with its colorful and unique backdrops. Its calm look immediately draws the user's attention. This UI component may quickly improve the user's disposition. Bold and pastel hues appeal to a wide audience and blend well.
Improved Personalization
Personalization, as well as customization, are now essential to success in the modern world. It helps make the experience more personalized and unique. According to studies, 75% of corporate executives believe that personalization enhances the customer experience. This aspect of design will undoubtedly evolve, thanks to technologies such as AI and ML.
Conclusion
The developers should be aware of a number of trends, but the most crucial thing is that they must keep up with the most recent advancements in the fields of mobile app development and web design. After all, we all want to offer such products and services to our clients that can serve them in the best way possible. At Digitalroar Softlabs, we stay on top of the most recent trends, and our affable developers and designers employ the latest and most intuitive UX/UI to enhance the user's experience.